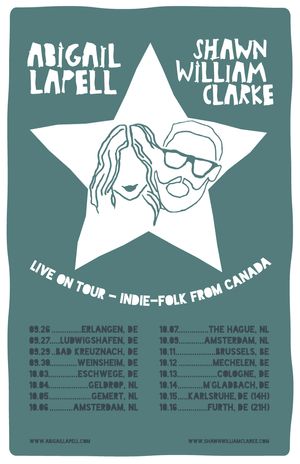 Happy September! I'm preparing to hit the road for three weeks of fall tour dates across Germany, the Netherlands and Belgium -- co-billed with the lovely and talented Shawn William Clarke.
We're excited to partner with local community venues like Jukuz (Erlangen, DE), Joe's Garage (Amsterdam, NL), Weltempfanger (Koln, DE) and many house concerts across the region. If you or anyone you know is in the area please check out the dates -- here is a FB event. 
And if you're in Toronto this weekend, we're playing the Cameron House September 23rd, 6pm with Melanie Brulee, Scarlett Jane, Shawn William Clarke and Darcy Windover. Come out and say "gute Reise"! (That's "bon voyage in" German.) (Side note: I have been learning German. it is SUPER hard! But fun!!) 
In other news, my album Hide Nor Hair was just nominated for two 2017 Canadian Folk Music Awards -- for Contemporary Album of the Year and Contemporary Singer of the year! Congratulations to all the amazing and talented nominees! 
I was also nominated for two Toronto Independent Music Awards, in the Folk/Roots and Best Video categories. Here is the video in question, Night Bird and Morning Bird -- a beautiful small movie created by Montreal's Panadream Theatre. 
Till next time take care and keep in touch. 
Auf wiedersehen, 
A